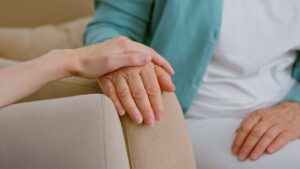 As people age, they may require assistance with activities of daily living, such as dressing, bathing, and eating. Long-term care helps seniors maintain their independence, while also providing them with the care they need. According to a recent study, about 27% of adults aged 65 and older say they require ongoing support for activities of daily living. The Sugar Land Health Care Center in Sugar Land, Texas offers a variety of long-term care options for seniors.
At Sugar Land Health Care Center, in Sugar Land, Texas our team of professionals help navigate the long-term care options available.  We know the process can be daunting but it is important to consider all aspects of health, safety, and quality care when making these decisions. Having access to reliable resources is an essential step in assuring that your family members receive the best possible long-term care. Seniors will inevitably need more support and assistance to maintain their quality of life, and long term care for is an important part of that process. For those needing more extensive care, Sugar Land Health Care Center offers a quality rehabilitation program that provides assistance with physical and occupational therapies as well as memory and skilled nursing care.
Long-term care is often needed by people who have a chronic illness or disability, or who are unable to care for themselves due to age or injury. Long-term care planning is important for seniors to ensure they have the resources to cover the costs of medical care, housing, and other services they may need as they age. It can also provide peace of mind for their families, knowing that their loved ones are taken care of. 
There are several ways to pay for long-term care, including private insurance, Medicaid, Veterans benefits, and out-of-pocket payments. Each of these options comes with its own advantages and disadvantages, and it is important to research each option carefully in order to make the best decision for your particular situation.  For example, Veterans or their surviving spouses who meet certain service and income requirements may qualify for Veterans Aid and Attendance. To qualify, veterans must have served at least 90 days of active duty with at least one day during a period of war, and have a disability rating of at least 10%. Surviving spouses must have been married to the veteran at the time of the veteran's death.
If you or your loved one are in need of long-term care and would like some help with payment options, please contact us at Sugar Land Health Care Center in Sugar Land, Texas and we will be happy to assist you.